There are many reasons why I chose the Golden state to take on my own adventure – skydiving in San Diego.
The Californian Coast is bursting with opportunity for unique experiences,  apart from skydiving in San Diego, there are incredible National Parks, gorgeous people inside and out, breathtaking and very varied views, and so much more. Its year-round mild climate makes it a pleasure to explore and means you're guaranteed to soak up some Vitamin D in this super-cool surf town scene. 
My two experiences in San Diego were remarkably different yet equally as memorable. The common denominators that struck me were, like true California, the laid back, friendly people, the value for the outdoors, clean eating, chill vibes and enjoying life…it's a beautiful thing! The flourishing bar and restaurant scene allows for a great mix of socialising with locals and other travellers – which is where I heard about Skydive San Diego. 
Where do I need to go?
Located about 30 minutes outside Downtown San Diego, this place was the ideal setting to create my very own story about skydiving in San Diego! The team at this center were professional, well organised and excited me from the moment I met them! We got straight to business when I arrived and took part in a short training and equipment briefing. I paid extra to have my dive videoed (aka receive footage of spit flying out of my mouth and demonstration of how stretchy my face is) and went outside to get geared up. The arrival of the tiny, loud, old, door-less plane for the dive got my heart thumping immediately. 
Taking off
We climbed aboard and took off. My sky diving instructor, who would be attached to me for the fall, started linking his equipment to mine. I looked out the window, astonished at the rate we were rising, realizing I was oblivious to just how high 13,000 feet was. The excitement at this point was overwhelming and without realizing my hands were dancing on my lap! Presuming I was nervous, the instructor tried to reassure me before I laughed and told him I couldn't wait to go! 
Getting ready – its go time
Without warning, the first pair of the four of us, sitting nearest the 'door', stood up and were gone within 10 seconds – leaving no time to reconsider! Following them, the second pair jumped before I could realize I was next. Suddenly my over-confidence dwindled as the instructor stood up and gestured to me to follow him. At the edge of the moving plane we stood for just a moment looking down at the vast view of mountains and greenery. It was either that, or the violent wind that completely took my breath! Upon hearing his countdown, and ignoring what my body was screaming at me, we jumped together. 
Leaving the plane
I was told afterwards we free-fell for about a minute, but it seemed like ten. I had no thoughts other than the astonishment at the speed we were travelling and the sense of invincibility. It's hard to describe the feeling of skydiving, the butterflies and the intense adrenaline. It hits you all at once as all your senses are viciously awoken. Once I got a handle on my breathing I tried to look around and savor the moment. I was falling at a speed of approximately 120mph. 
Landing
Eventually, the instructor pulled the parachute chord and we arrived to a sitting position. An immediate sense of calm washed down around us as the loud rush of wind was cut. I could really enjoy the scenery and relish the five minute flight over Southern California's beautiful scenery with views of the Pacific Ocean and Baja California. 
It has hard not to let my emotions get the better of me during this short glide through the air. I felt freedom, bliss, focus, and confidence, to name but a few. On that note, the feeling of my ears popping vigorously was hard to ignore too! 
As instructed on land, I lifted my legs up high to take the impact of gliding across the ground. Naturally, I was relieved to be in one piece, but absolutely gutted to be back on the ground. 
Usually we view the earth from above via an airplane or helicopter. The privilege of skydiving in San Diego is the unique view of the detail and sheer beauty of what you notice when only air is between you and the Earth. It's like the most vivid picture or movie you've ever seen! 
I cannot wait to kiss the sky again on my next adventure, so I can tell people about my sky diving stories!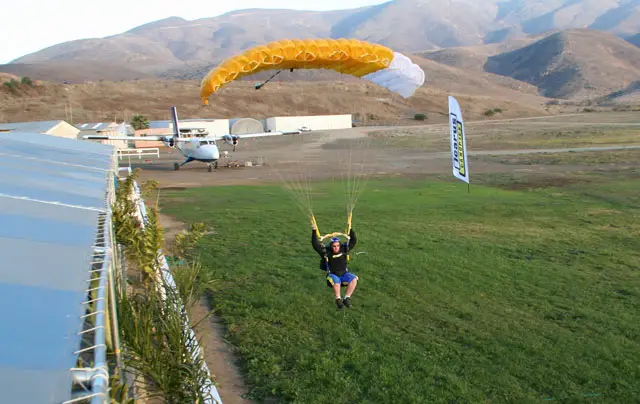 How can I get in contact them? 
–Pick your day, time, and confirm!
How much does it cost? 
-Depending on the day of the week (weekdays are cheaper) the cost varies from $169 – $199. 
What should I wear? 
–To avoid your clothes running away from you and flapping into your face etc, avoid anything loose fitting. Your dive centre may/may not offer you a jumpsuit for your dive. (Skydive San Diego do not.) 
Should I avoid/try to eat anything in particular prior a skydive? 
–No, just don't drink alcohol the night before – you don't want anything to spoil your experience and you want all your senses and thoughts fully functioning! 
Is there anything else to do in San Diego? 
–YES! 
San Diego is a large enough city to offer a range of experiences to people of all ages and interests, but small enough to navigate and explore its sights and scenes comfortably.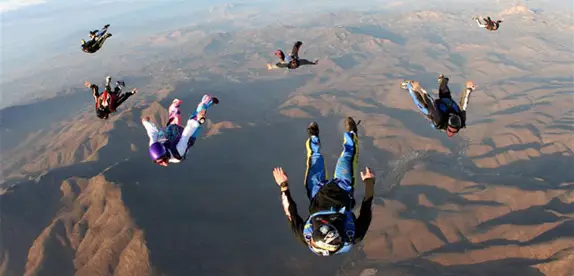 Things to do in San Diego: 
Firstly, although I am aware that this is pretty controversial (and rightly so) I can't share the sights in San Diego without mentioning Sea World San Diego. Without delving too much into the subject, simply, it is a chance to learn about ocean creatures of all sizes, shape and species. If not anything else, you can enjoy some pretty awesome Theme Park rides. Prices of ticket vary depending on season, package, etc. Check it out here
If you enjoy the surf scene, then San Diego is certainly for you. There are various beaches along this beautiful city, but your best for surfing will be Ocean Beach, Pacific Beach (both have a pier) and Mission Beach. Naturally, at high season they are pretty busy, but for good reason. If you're looking for a quieter, more secluded beach, Black's Beach is a little gem, offering silence and serenity whilst you work on your tan. 
In a coastal city as stunning as San Diego, the coastline deserves to be admired from afar too. There are oodles of cruises, sailing & water tours, and dolphin watching experiences. Some are budget friendly and some more luxurious – check out the Top 10 for one that suits you
Did you know Mexico is only a short journey away from SD? The party scene is insane and it's a unique experience to say that least. Just make sure your VISA etc is in order, as they're pretty strict on the border – I've heard stories! 
Food: 
If you adore Mexican food like me, SD won't disappoint. It offers a variety of cool, quirky and delicious spots. Here are my absolute top favourites; 
La Puerto – Great food, amazing cocktails. 
Fancy fancy: 
Truluck's Seafood Steak and Crab House is now in my top 5 restaurants EVER! It holds the Trip Advisor Certificate of Excellence from 2012-2019 for good reason. It's first class – not to be missed! 
Get yourself to San Diego! 
Baja Betty's – you can pay big dollars here, but it is so, so worth it. Those Burritos….