Jumping from 13,000 ft from a plane going 140 mph is always going to make you feel nervous.  Luckily the people at Skydive San Diego are very friendly and know all the best tricks to make you feel as relaxed as possible.
Here is my experience of skydiving in San Diego.
Awesome Things About Doing A Skydive in San Diego
Price – Most places in the world cost much more than 200$ you'll spend in San Diego.  New Zealand averages at around $350 and Nepal at over 15,000$, but then again that is diving over Mount Everest.
Scenery – The mixture of diving over city, the sea, and the desert landscape heightens the experience
Friendly people that take the edge off – Californians are renowned for their friendliness, so naturally they put you at ease.
There Are Three Companies To Choose From
Skydive San Diego – friendly staff, and get you up in the plane in very little time.  Facility is open so you can see everyone coming in after their jumps.
Price – $199 – 13,000 feet tandem skydive
Pacific Coast Skydiving – With their proximity to the ocean, they have sea views on the flight and their drop zone is in more central San Diego
Price – $169 – 11,000 feet tandem skydive
ifly Indoor Skydiving – This global company specializes in indoor flights.
A Day Skydiving With Skydive San Diego
Jumping Out Of The Plane
Without warning, the first pair of the four of us, sitting nearest the 'door', stood up and were gone within 10 seconds – leaving no time to reconsider! Following them, the second pair jumped before I could realize I was next. Suddenly my over-confidence dwindled as the instructor stood up and gestured to me to follow him.  We back flipped out of the plane and you are put into sensory overload.
At the edge of the moving plane we stood for just a moment looking down at the vast view of mountains and greenery. It was either that, or the violent wind that completely took my breath! Upon hearing his countdown, and ignoring what my body was screaming at me, we jumped together. 
Instructions To Follow:
Tuck your legs between the instructors
Rest your head back in their chest
Always hold on to your chest straps
Free-Fall
I was told afterwards we free-fell for about a minute, but it seemed like ten. I had no thoughts other than the astonishment at the speed we were travelling and the sense of invincibility. It's hard to describe the feeling of skydiving, the butterflies and the intense adrenaline. It hits you all at once as all your senses are viciously awoken. Once I got a handle on my breathing I tried to look around and savor the moment. I was falling at a speed of approximately 140 mph. 
Getting Up To Altitude
We climbed aboard and took off. My sky diving instructor, who would be attached to me for the fall, started linking his equipment to mine. I looked out the window, astonished at the rate we were rising, realizing I was oblivious to just how high 13,000 feet was.
Getting ready to jump aboard
The excitement at this point was overwhelming and without realizing my hands were dancing on my lap! Presuming I was nervous, the instructor tried to reassure me before I laughed and told him I couldn't wait to go! 
Landing
Eventually, the instructor pulled the parachute chord and we arrived to a sitting position. An immediate sense of calm washed down around us as the loud rush of wind was cut. I could really enjoy the scenery and relish the five minute flight over Southern California's beautiful scenery with views of the Pacific Ocean and Baja California. 
It has hard not to let my emotions get the better of me during this short glide through the air. I felt freedom, bliss, focus, and confidence, to name but a few. On that note, the feeling of my ears popping vigorously was hard to ignore too!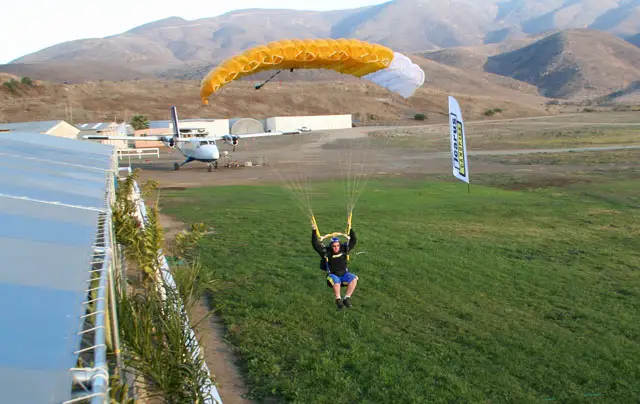 As instructed on land, I lifted my legs up high to take the impact of gliding across the ground. Naturally, I was relieved to be in one piece, but absolutely gutted to be back on the ground. 
Usually we view the earth from above via an airplane or helicopter. The privilege of skydiving in San Diego is the unique view of the detail and sheer beauty of what you notice when only air is between you and the Earth. It's like the most vivid picture or movie you've ever seen! 
I cannot wait to kiss the sky again on my next adventure, so I can tell people about my sky diving stories! 
The Location Of Sky dive San Diego
Located about 30 minutes outside Downtown San Diego next to lake Otay, the space they have is huge!  Looking out over the take off area and landing strip, there is plenty of room for people to come and watch the action unfold.
The team at this center were professional, well organised and excited me from the moment I met them! We got straight to business when I arrived and took part in a short training and equipment briefing.
I paid extra to have my dive videoed (aka receive footage of spit flying out of my mouth and demonstration of how stretchy my face is) and went outside to get geared up. They certainly know what they are doing, with jumps going every 20 minutes.  The arrival of the tiny, loud, old, door-less plane for the dive got my heart thumping immediately. 
Checking In
On arrival, you need to sign some forms (saying if you die you can't sue them).  After that you get a quick chat for what to do, only taking a few minutes. Supposedly that's all the instruction you need, but makes knowing that with a tandem you won't be calling the shots.
They then strapped us in our harnesses and awaited the rest of the group, along with our tandem partners.
Make Your Booking
Frequently Asked Questions
What should I wear?
To avoid your clothes running away from you and flapping into your face etc, avoid anything loose fitting. Your dive centre may/may not offer you a jumpsuit for your dive. (Skydive San Diego do not.) 
Should I avoid/try to eat anything in particular prior a skydive?
No, just don't drink alcohol the night before – you don't want anything to spoil your experience and you want all your senses and thoughts fully functioning! 
You have to be 18 years or older, also make sure you have a valid ID when you do one.
Do not worry! Your stomach will be completely fine, you will just feel massive amounts of adrenaline through your body.
Can you breathe while skydiving?
Even though you fall at speeds of around 140 mph, there's still no problem to breathe at all.